Body Pose Annotations on Watch-n-Patch dataset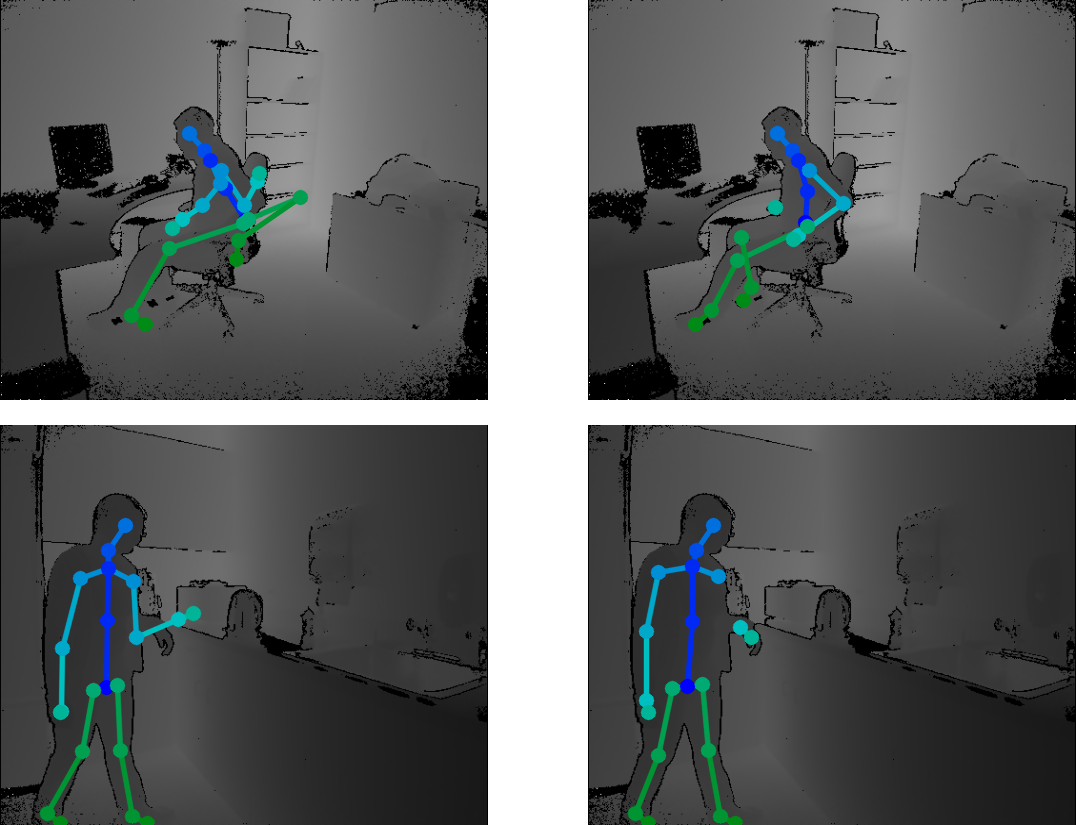 Dataset samples. The first and the third column show the original annotations of the Watch-n-Patch dataset, obtained using the Microsoft Kinect SDK.
The second and the fourth column show the manually-refined annotations obtained with the release annotation tool. Refined annotations are released in the Watch-R(efined)-Patch.
About the Dataset
WRP (Watch-R(efined)-Patch) dataset is a more precise and accurate version of the public dataset Watch-N-Patch, which is composed of recordings of multiple actions performed by different people acquired with the Microsoft Kinect v2 (Microsoft Kinect One).
The annotations in the original dataset are calculated with the Kinect SDK, which is not reliable for generic actions in non-standard position. We collect refined annotations using a quick and easy-to-use annotation tool, which is available here. Manually-refined joints gives the possibility to assess the performance of a method comparing the results with correct ground truth data.
In the data refinement process, we ignored finger joints (tip and thumb) since they are often occluded and original annotations are not often completely wrong. We provide annotations for 40 different sequences, half from the kitchen split and half from the office one.
Details
The dataset is composed of 3329 refined joints related to the corresponding watch-n-patch depth maps, split in:
Train set: 1135 frames
Validation set: 766 frames
Test set: 1428 frames
Download
To download the dataset, we require an email address where we'll send a download link to. This will help us to keep in touch in case errors are found or as updates become available.
Citation
We believe in open research and we are happy if you find this data useful. If you use it, please cite our paper.

@article{watchrpatch2019,
  title={Manual Annotations on Depth Maps for Human Pose Estimation},
  author={D'Eusanio, Andrea and Pini, Stefano and Borghi, Guido and Vezzani, Roberto and Cucchiara, Rita},
  journal={20th International Conference on Image Analysis and Processing (ICIAP)},
  year={2019}
}